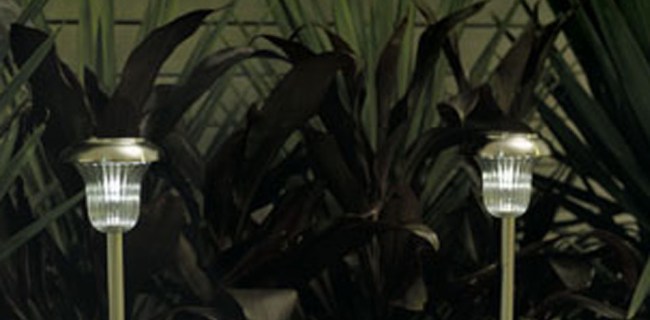 We take a look at various brands of solar and 12V lights. Solar seems like an attractive option at first sight but on close inspection we could only recommend 12V lights.
Today we are looking for more and more environmentally friendly solutions. However, when it comes to garden lights we just wouldn't recommend solar for your garden. Why? Solar do not provide the light output / illumination needed for safety. When walking around a pool coping it is essential that lights provide enough output for people to safely walk. As a result, we would only recommend solar lights for their ornamental value.
When it comes to 12V garden lights we would recommend checking the wattage. Use only halogen garden lights that have at least 10 watts. Use only LED lights that have at least 2.5 watts. If need be we can always bring an array of lights for you to try at night time to see the light output. It is important that lights are not only functional, but also add to the appearance of the pool and garden. They come in a variety of colours, shapes and sizes to suit any landscape.
Lighting is also important for allowing you to highlight certain unique flora, decorations, water-features and the sculptures within your poolscape. It is also equally important for creating mood around your pool. Whilst pool lights are important for the swimmer garden lights are more important for creating the mood within the landscape.
It is important to check that any lights you choose are IP44 rated. This means they are weatherproof rated and will survive out in your garden. Also, consider the length of the warranty and the type of warranty i.e. pro-rata warranty or a replacement warranty.
Also realise that there are many different styles of light to consider. Path lights add interest to the hard surfaces around pool. Deck lights blend into the existing surface to illuminate those interesting features in your landscape. Bollards are specifically designed to go on either side of a path and draw attention to low level flora. Spotlights are your first choice for bringing attention to the various sculptures and water features in your landscape. Wall lights are great for splashing colour onto walls and also great for illuminating retaining walls.
Some of the better suppliers of garden lights we would recommend due to their range at time of writing: