An automatic pool cleaner is a big investment. It can either save you hours or cause you hours of frustration. Prices start at $200 and going all the way up to $2,000. How do you tell which one will?
Clean your pool properly.
Not get stuck in a corner.
Not break the bank when buying spare parts.
Use less energy and keep your electricity bill down.
Be whisper quiet when operating.
Be aware that spending $2,000 will not get you the best cleaner in the market. Read our review to find out about the best cleaner for your pool.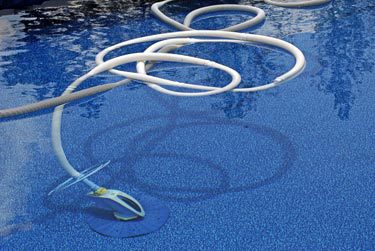 Example of a Suction based Pool Cleaner.
To help you make the right decision, we give you an in-depth understanding of the different cleaners available on the market. We discuss the various technologies used by the different cleaners. This is the first of three posts reviewing each of the different type pool cleaners available in the market today. The three different types of cleaners are suction based cleaners, pressure based cleaners and robotic pool cleaners. Post two will discuss pressure operated cleaners and post three will discuss robotic cleaners.
Suction cleaners are the cheaper cleaners in the market. They work by operating off your main filter pump. They use the suction from the pool to suck leaves into your skimmer box. In terms of energy efficiency they are more energy efficient than pressure and robotic cleaners but they also perform the worst cleaning job.
Suction Cleaners – What to buy
All-rounder – Zodiac Baracuda G2
The Good
Long life cleaner made from high quality materials (not as good as Kreepy Krauly)
Completely silent
Easy to remove any blockages
Easy to service yourself.
The Bad
Diaphragm (part that allows cleaner to operate) breaks quite easily
Can get stuck in corners.
Horrible in square pools (i.e. lap pools)
Concrete Pools – Kreepy Krauly Marathon
The Good
Long life cleaner made from high quality materials
Only cleaner that keeps skimmer box functioning.
Easy to remove any blockages.
Hammer breaks larger objects reducing blockages
Australian made.
The Bad
Noisy… equally nosiest cleaner on the market
Expensive… one of the most expensive cleaners on the market.
Expensive spare parts.
Can get stuck in corners.
Horrible in square pools (i.e. lap pools)
Vinyl Pools – Poolvac Ultra
The Good
Works well in irregular shaped pools
Completely silent
Good at cleaning the pool
Works well in square pools.
The Bad
Lots of spare parts that have to be replaced regularly.
Difficult to remove blockages.
Has to be serviced by pool shop.
Can get blocked and stop functioning.