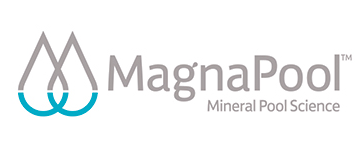 COMPONENTS
MagnaPool Minerals – A blend of Magnesium Chloride and Potassium.
MagnaPool Hydroxinator (Same technology as Zodiac TriChlor Salt Chlorinators).
Glass Filter Media (The system works just as well with sand).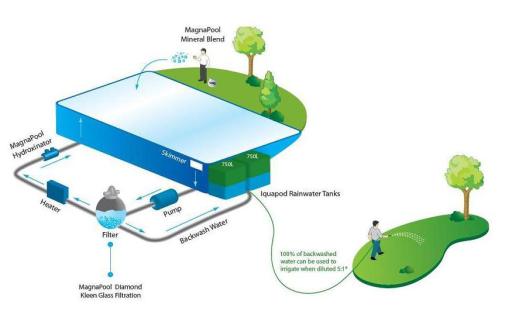 This diagram shows all the different components Zodiac wish to sell with the Hydroxinator unit.
BENEFITS
Alternative to a traditional chlorine and salt pool.
Claims to be softer water.
COSTS
Still a chlorine based system.
An expensive product.
No scientifically proven health / skin benefits. It is snake oil.
THE FACTS
Uses same process and equipment to produce chlorine as a normal salt pool.
Manufactured by Zodiac. Zodiac produces quality products for the pool industry.
No strong research to prove health and skin benefits.
Magnesium Chloride has been used for many years in swimming pools and has not had an impact on people allergic to chlorine.
Only uses two pseudo-scientific papers to justify claims. Papers were sponsored by original manufacturer of product.
This product has no enviro-benefit but is sold as an environmentally product.
The manufacturer encourages discharging your water onto the lawn. Legally you cannot do this in New South Wales.
TECHNICAL DETAILS
Chlorine Production – 25 grams / per hour for mid; 35 grams / per hour for large Operating Mineral Level – 5,000 parts per million (ppm) Bags of Mineral for Average Size Pool (50,000L) – 30 bags Warranty – 3 years Original Manufacturer – Poolrite
COMMENTS
I believe this product will receive a lot of marketing from Zodiac. In reality it is no more superior for its end users than a normal salt pool. This product is being produced to compete with other chlorine-free technologies produced by other pool industry players. I am not impressed with Zodiac trying to push consumers to buy their pumps, filters and chlorinators all in one package under the guise that it is a premium product with all sorts of health benefits.
This all being said I have dealt with customers who love the product and would highly recommend it. It seems to be a product some people really love. I am not dead against it I just do not feel the price and marketing is reasonable.
This product was originally manufactured by Poolrite Pty Ltd. Poolrite went bankrupt and Zodiac bought the sole rights to sell and distribute the MagnaPool Mineral Pool System.
I give this product 6 out of 10 stars.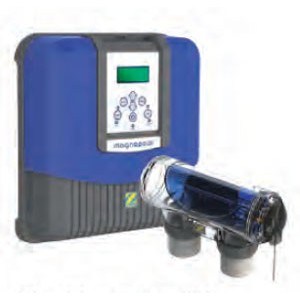 The hydroxinator a fancy name for a chlorinator.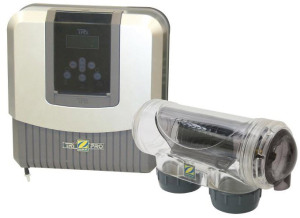 The Zodiac Tri Salt Chlorinator and Hydroxinator are the same product just with different coloured casing.
LINKS
http://www.magnapool.com/ – Zodiac's website to promote the product
https://www.youtube.com/watch?v=4ABhpdU_i_0 – Powerpoint Presentation refuting MagnaPool system